Handwriting really is a lost art.
In this day and age, we type everything. (Myself included.)
People don't know how to write (or read!) cursive anymore.
I don't even think it is taught in schools.
Sure, it probably isn't necessary, but its an art form.
Plus, I know for me it helps me write a whole lot faster.
So when I saw that Joelle at
Something Charming
was hosting a "Write It Down and Link It Up" linky,
I had to join in.
I am a designer, of course I love to doodle!
But of course, this was hard for me because I am an uber perfectionist.
I actually rewrote it once.
But if you knew me, you would know that that was total self control!
If you can't read the favorite quote, it says:
"I may not have gone where I intended to go,
but I think I ended up where I needed to be."
-Douglas Adams
That is very true for my life, and I am sure it might be in yours as well.
I hope you join in on the fun and link up!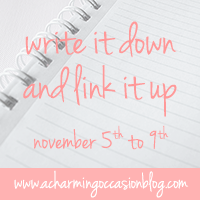 Happy Tuesday, Loves!